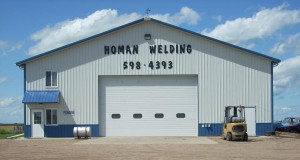 Homan Welding is proud to serve you in North Central South Dakota. We are located 1 mile East of Faulkton along US Highway 212. Established since 2007, we can handle complete repair of any sort, including agricultural and construction equipment. Our motto is, "If it's broke, we'll fix it!"
We also offer custom manufacturing of agricultural and livestock products and a comprehensive selection of retail products, primarily in steel selections.

We are pleased to announce our sister company – Homan Ace Hardware – is now open in Faulkton. Homan Ace is serving many of the retail hardware needs that previously may have been a part of Homan Welding. And Homan Ace Hardware can be reached at (605) 598-3007.